At Holiday Marine Service Company, we have worked hard to become recognized as the leading boat repair center in New Braunfels, TX.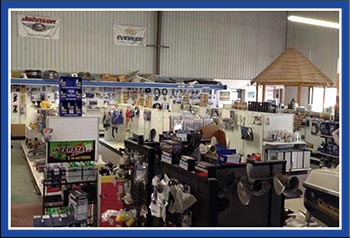 We can fulfill all of your boating needs, from accessories, to complete inboard and outboard motor repairs and used boat sales. Holiday Marine Service Company is proud to offer superior service and top name brands at prices you can afford.
You won't find a more complete selection of marine supplies in New Braunfels, TX anywhere else. Whether you are looking to stock up on supplies for your next boating trip, require expert motor service or are shopping for a quality used boat, come to Holiday Marine Service Company today. At Holiday Marine Service Company, we are proud to offer the most extensive repair services and maritime supplies, including:
Boat Repair: Our certified mechanics can repair all makes and models of inboard or outboard boat motors in New Braunfels, TX, and we can even perform warranty work on Mercruiser, Johnson and Evinrude brand motors. Whether you are in need of routine maintenance or a complete overhaul, we can handle it quickly and affordably.
Marine Supply: At Holiday Marine Service Company, we carry a full inventory of supplies and boat accessories. Before you go out on the water, come in to our shop to stock up on all of your boating supplies.
Used Boat Sales: We have a large number of used boats in stock. All of our boats are fully inspected by our certified mechanics and ready to launch. At Holiday Marine Service Company, we offer the fairest prices on all of our used boats, making it easy to find the boat you want at a price you can afford.
Whether you are an experienced sailor, or are just dipping your toe into the water for the first time, Holiday Marine Service Company is here to provide you with everything you need for a successful and fun boat outing.
We are committed to delivering the best service and top quality supplies to each and every one of our customers. Our company has been a proud member of the New Braunfels community for over 25 years, and we have built a reputation for integrity, fair pricing and expert service. If you are in the market for a used boat, marine supplies or boat motor repairs, please feel free to contact us today at 1-830-625-9558.